In 2011, Bradley Wells noticed that a photo he had modeled for–34 years prior–was being used in advertisements for RCs and MoonPies. Mr. Wells, then in his mid-40s, filed suit in state court alleging violations of the Tennessee Personal Rights Protection Act, the Tennessee Consumer Protection Act and additional common law claims for unjust enrichment, accounting and conversion.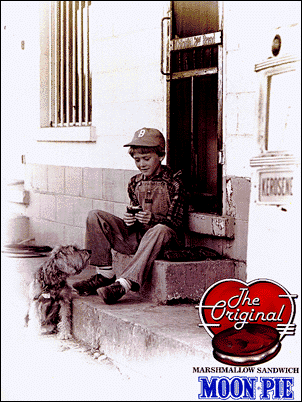 The original black and white photo featured a puppy "gazing at a MoonPie" held by an unidentified boy, a young Bradley Wells. A later version of the picture included an RC Cola that had been digitally added. The ad agent who took the original photo was a family friend of the Wells and took the shot with the parents' permission. There was no written contract and no restrictions placed upon use of the photo.
The defendant, Chattanooga Bakery, Inc., moved to dismissed the case on the basis that the state trial court did not have subject matter jurisdiction because the federal Copyright Act superseded all of Wells's state law claims. The trial court agreed with the defendants, ruling that all of the claims asserted by Mr. Wells are equivalent to rights under the Copyright Act.
Wells's claims were primarily based upon the alleged unauthorized and unlawful use of his "picture, image and likeness," or his personal identity, which is not subject to copyright protection. However, both the trial court and Court of Appeals exposed this argument based largely on the fact that Wells was not identified as the boy in the photo, and in fact no one could recognize him as the model. His claims for damages arise out the reproduction and derivation (copies, reproductions, etc.) of the photo itself (and not his identity), both exclusively rights under the Copyright Act.